Top posting users this month
Who is online?
In total there are
5
users online :: 0 Registered, 0 Hidden and 5 Guests
None
Most users ever online was
26
on Fri Nov 13, 2015 12:07 am
Melony Tones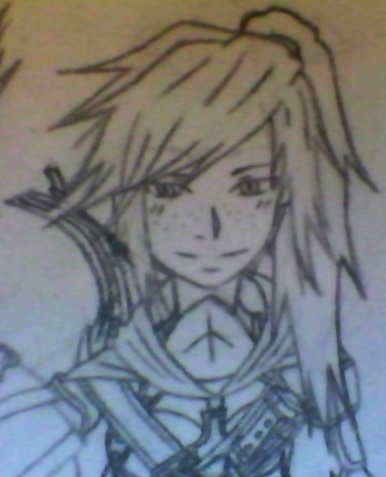 ---PERSONA---
Full Name:
Melony Tones
Nickname(s):
Mel, Melody
Alias(s):
The Frozen Note
Age:
20
Race(s):
Breton
Affiliation:
Neutral
Faction:
The Thieves Guild (Part Time), and The Dark Brotherhood
---PHYSICAL DESCRIPTION---
Hair Color (If any):
Blonde
Eye Color:
Green
Gender:
Female
Height:
5'3"
Weight:
120 lbs
Battle Scars (If any):
She has a bad burn scare over her right ear.
War Paint (If any):
N/A
Other Traits:
She has some freckles on her face.
---STATS---
Health:
10
Stamina:
5
Manna:
10
Speed:
5
Strength:
5
Unarmed:
5
Travel:
10
---SKILLS---
The Mage Skills
Illusion:
0
Conjuration:
0
Destruction:
45
Resurrection:
15
Alteration:
0
Enchanting:
0
The Warrior Skills
Smithing:
15
Heavy Armor:
0
Blocking:
15
Two Handed:
0
One Handed:
30
Archery:
45
The Thief Skills
Light Armor:
15
Sneaking:
45
Lockpicking:
30
Pickpocketing:
30
Speech:
15
Alchemy:
15
Talents:
She can play a mean Lute and sing really well, Shes also really talented with making things out of ice and snow, she also can slide around on ice and not falling over and actually and move her body to direct where she slides.
Blood Line Skills:
Melony is a Breton so her blood grants her a half of a resistance to magic.
Spells Known:
Healing - Heals caster for 10 health per 5 minutes.
Frostbite - a basic blast of cold.
Ice Spike - A spike of ice that can impale your enemies.
Freeze Bolt - a bolt of frost that a colder than plain frost.
Frost Rune - Cast on nearby surface, it explodes when something heavy enough lands on it.
---PROFILE---
Personality:
Melony is kind and is supportive in her weird way that sometimes seems like hes making fun of you or making a joke out of what is making you sad but makes it also clear that shes trying to me nice. She smiles a lot and teases her husband Fredric at times and basically does the talking for him when they are together which is almost always. Melony also can be a goofball at times but can get serious when she needs to be.
Mental Weaknesses
She finds it hard to process things in her head and think if she is too overly hot. She also looses her smile and goes into a dark tone and expression if Fredric is hurt and doesn't think about anything but hurting who ever hurt him back 10 fold of what they hurt him thus allowing her to get hurt due to only focusing on payback. She has a slight obsession with stealing random things that might cost money to sell later.
Interests:
Ice, Frost, Cold, Snow, Bows, Elven everything, Stealing, Killing, goofing around and teasing others, Joking around with Fredric, Fredric's cooling, Being a proud milk drinker, getting more gold, and spending time with Fredric.
Habits/Quirks:
She tends to, when in a frozen/snowy environment, not take anything seriously 100% but can still be serious though makes her fighting style into a more playful one when she goes in the snow or frozen areas.
Strengths:
Playing the lute, Singing, Making snow and ice sculptures, Doing basically ice skating but with out the blades on your shoes cause ice skating isn't a thing yet.... yet....
---ITEMS---
Equipment:
Elven Sword, Lockpicks, Elven Bow, many sweet rolls, a wooden toy sword, a large coin purse, Night shades, and death bells.
Armor:
She wears a altered armor that is a mix of thieves guild and Dark Brotherhood armor. It has the Effects of the Thieve's Guilds boots, chest armor and the Dark Brotherhoods, gloves, and hood.
Special Items:
A Dark Brotherhood letter that has a white hand prints that look like they were shaped to make the sides into hearts and written in black after the "We Know" it continues to say "You Like Dead Bodies At A Well Light Candle Light Dinner." -Altered by Melony
---BACKGROUND---
Place of Origin:
Riften
Current City/Village:
Winterhold
Family Members:
A mother and father in the thieves guild who are 2 of the eldest members. Fredric (Her husband.)
History:
Melony was born into the thieves guild like her parents have been and she quickly took to the life style being big on stealing things she like just like her father. When quickly became a very skilled thief though one night when she was a bit older but still a child she was caught by another child when she was stealing from him and the two quickly started to fight. The boy left it with a punch to the face and a new friend and the girl left with a badly burnt that would later on scar and a new friend.
The girl trained her skills more and as time past the boy visited her often and became her close friend, best friend, boyfriend, then her husband. After their marriage the two went to Winterhold to follow the boy's dreams and to get their own house along the way the two were recruited by the Dark Brotherhood and now the two are members of the group and Melony also a part time member of the thieves guild that are yet to know about her membership with the Dark Brotherhood.



Posts

: 31


Join date

: 2015-11-12


Age

: 22


Location

: Riften



___________________
Stat Sheet

Arobrynn Wind-Shoal
Imirya Duskpool
Admin




Posts

: 72


Join date

: 2015-07-02


Age

: 19


Location

: Probably sleeping



---
Permissions in this forum:
You
cannot
reply to topics in this forum