Top posting users this month
Who is online?
In total there is
1
user online :: 0 Registered, 0 Hidden and 1 Guest
None
Most users ever online was
26
on Fri Nov 13, 2015 12:07 am
Alicrid Julinko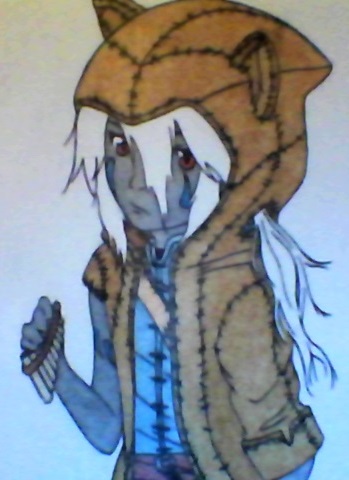 ---PERSONA---
Full Name:
Alicrid Julinko
Nickname(s):
Ali
Alias(s):
N/A
Age:
14
Race(s):
Half Dunmer and Half Khajiit (She only has the features of a Dunmer though.)
Affiliation:
Neutral
Faction:
The Bard's Collage
---PHYSICAL DESCRIPTION---
Hair Color (If any):
White
Eye Color:
Red
Gender:
Female
Height:
5'4"
Weight:
110 lbs
Battle Scars (If any):
N/A
War Paint (If any):
She has a streak of blue pain going down one cheek and up the other and down along the bicep of her right arm.
Other Traits:
N/A
---STATS---
Health:
5
Stamina:
5
Manna:
15
Speed:
5
Strength:
5
Unarmed:
5
Travel:
10
---SKILLS---
The Mage Skills
Illusion:
75
Conjuration:
15
Destruction:
15
Restoration:
15
Alteration:
15
Enchanting:
15
The Warrior Skills
Smithing:
0
Heavy Armor:
0
Blocking:
15
Two Handed:
15
One Handed:
15
Archery:
15
The Thief Skills
Light Armor:
15
Sneaking:
15
Lockpicking:
15
Pickpocketing:
15
Speech:
30
Alchemy:
15
Talents:
Singing and preforming music, Memorizing songs, moving around and maneuvering if she is absolutely unable to see (She has very bad eye sight as it is and can only see blobs of things at best so to her being totally blind isn't that much different due to over all not relying on sight to move around like most people, Also this does mean that she also cant read.) She also can feel carved out letters in stone, wood, etc. to tell letters and this allows her to some times identify words and or names but that is about it.
Blood Line Skills:
She has Dunmer blood gives you half of the resistance to fire. She also has heightened vision, even at night (But only if her vision is clear, and at night all this does is make things not pitch black to her) due to her Khajiit blood. Though due to not having claws she does not have that blood line perk.
Spells Known:
Clairvoyance - Shows a lighted path to a set goal for 10 minutes.
Courage - Targets will not flee for 10 minutes.
Fury - Lowest level creatures will attack anything nearby for 10 minutes.
Calm - Low level creatures will not fight for 20 minutes.
Fear - Low level creatures will attack anything nearby for 20 minutes.
Muffle - Move more quietly for 30 minutes.
Candlelight - Create a hovering candlelight that causes lasts for 15 minutes.
Oakflesh - Improve armor for 15 minutes.
Healing - Heals caster for 10 health per 5 minutes.
Lesser Ward - Creates a mini shield to take up to 50 pounds of damage.
---PROFILE---
Personality:
Ali is a kind and life filled girl who is really stubborn with not allowing people to help her too much when it reached the point of nearly babying her unless it was them reading her a book. She loves to play music and memorize and learn it through hearing it. She also loves hearing stories and telling them though knows when not to share certain information she shouldn't have heard but did. She's really independent and great at doing things herself but knows when she really should stop and ask for help.
Mental Weaknesses
She doesn't really have any that would truly differ her from any normal person but in turn for this she has a lack of good vision and the ability to read not allowing her to do many things like others do and can highly impair her fighting and her ability to efficiently find her way around and use signs.
Interests:
Books (Even if she herself can't read them she enjoys listening to others read them for her especially if they let her hold the book and turn the pages as if she was reading it herself. Preforming music and learning songs by listening to them and memorizing their musical note patterns to replicate them in order to preform them. She enjoys hearing and telling stories. she enjoys feeling things with odd textures and different textures over smooth ones. She likes it when people don't baby her due to her bad vision but also likes it if they help her but in a helpful respectful manner rather than it being out of pity or over killing it treating her like a baby.
Habits/Quirks:
She tends to run her hand along walls and tables as she walks along with drag sticks around the ground to make sure where things are. If something has an odd texture and or a bumpy one to it she tends to touch it and mess with it a lot out of curiosity. When not playing any instruments but listening to music she likes to move her hands as if she was playing and replicating the music.
Strengths:
Replaying songs by just hearing a song, memorizing things, remembering voices and information that was relayed to her through sound/audio, Remembering things through feeling and touch smell and taste.
---ITEMS---
Equipment:
Harp, Lute, Flute, different kinds of foods, a gold purse, multiple story and history books.
Armor:
She wears a light leather coat with make shift cat ears fitted on the top made by her mother when she was a child and felt sad that she didn't have ears like her father then over time was re patched up and sized to fit her. She wears other simple cloth clothing under this that is fitted to hold her instruments with straps and one dagger.
Special Items:
N/A
---BACKGROUND---
Place of Origin:
Morthal
Current City/Village:
Solitude, Bard's Collage
Family Members:
Her mother and father who.
History:
Ali was born in Morthal and raised by her hard workign and loving parents. Her mother worked hard raising her and reading her books as a child while her father worked hard in the mines to make them money. Her parents wanted nothing but the world for her and for all her hopes and dreams to come true so when she was a child and wanted to learn as many spells as she could they bought and read her spell books that she memorized by heart and ran through the lessons daily until she learned the spells. When she said she wanted to be a bard they went out of their way to get her instruments and paid the local inn's bard to teach her how to play. And when she said she wanted to go to the Bard's Collage they were a bit scared to have her run off and travel all across Skyrim alone at her age and with her impaired sight. Though lucky for her a traveling Khajiit group that was friends with her father offered to protect her and take her on their travels and drop her off at the collage when they arrived in solitude. Due to this luck and offer her parents agreed gave her things to travel with and off she went and for the past 3 years now she has been studying at the collage and is currently one of their best students and is close to graduating already.



Posts

: 31


Join date

: 2015-11-12


Age

: 22


Location

: Riften






Posts

: 31


Join date

: 2015-11-12


Age

: 22


Location

: Riften



___________________
Stat Sheet

Arobrynn Wind-Shoal
Imirya Duskpool
Admin




Posts

: 72


Join date

: 2015-07-02


Age

: 20


Location

: Probably sleeping



___________________
Stat Sheet

Arobrynn Wind-Shoal
Imirya Duskpool
Admin




Posts

: 72


Join date

: 2015-07-02


Age

: 20


Location

: Probably sleeping



---
Permissions in this forum:
You
cannot
reply to topics in this forum