Top posting users this month
Who is online?
In total there are
2
users online :: 0 Registered, 0 Hidden and 2 Guests
None
Most users ever online was
26
on Fri Nov 13, 2015 12:07 am
Imirya Eldergream Duskpool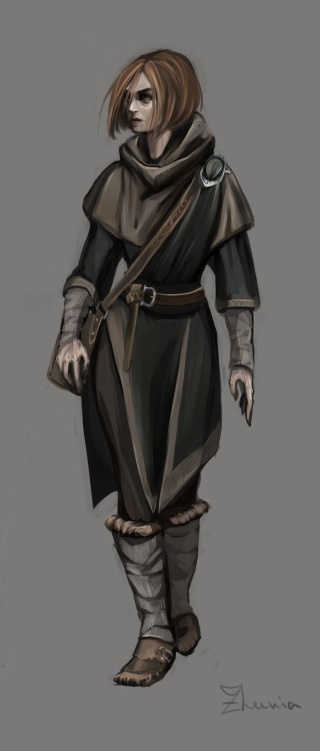 ---PERSONA---
Full Name:
Imirya Eldergream Duskpool
Nickname(s):
Myra
Alias:
N/A
Age:
18
Race:
Bosmer
Affiliation:
Neutral/Good
Faction:
N/A
---PHYSICAL DESCRIPTION---
Hair Color:
Light Brown
Eye Color:
Gold
Gender:
Female
Height:
5'4
Weight:
112
Battle Scars:
Multiple little cuts around her hands.
War Paint:
N/A
Other Traits:
Extremely frail and petite.
---STATS---
Health:
10
Stamina:
5
Manna:
15
Speed:
5
Strength:
5
Unarmed:
5
Travel:
5
---SKILLS---
The Mage Skills
Illusion:
0
Conjuration:
0
Destruction:
0
Restoration:
70
Alteration:
65
Enchanting:
0
The Warrior Skills
Smithing:
0
Heavy Armor:
0
Blocking:
0
Two Handed:
0
One Handed:
30
Archery:
0
The Thief Skills
Light Armor:
30
Sneaking:
0
Lockpicking:
0
Pickpocketing:
0
Speech:
30
Alchemy:
90
Talents:
-Singing
-Cooking
-Cleaning Animals
Blood Line Skills:
-Is able to easily make animal allies.
- Bosmer blood gives her half of the resistance to poison and disease.
Spells Known:
Alteration
Spoiler:

Candlelight- Create a hovering candlelight that causes lasts for 15 minutes.

Equilibrium- Convert Health into Manna, Caster can die doing this.

Magelight- Ball of light that lasts an hour and sticks where its casted.

Detect Life- Nearby living creatures, (but not undead, machines, or daedra) can be seen through walls.

Telekinesis- Can pull or push an object weighing 200 pounds with their mind.

Water breathing- Can breathe under water for 30 minutes.
Restoration
Spoiler:

Healing- Heals caster for 10 health per 5 minutes.

Lesser Ward- Creates a mini shield to take up to 50 pounds of damage.

Fast Healing- Heals the Caster for 20 health per 10 minutes.

Healing Hands- Heals the target for 20 health per 10 minutes. No machines, undead, or atronachs.

Necromatic Healings- Heals an undead target for 20 health per 5 minutes. No machines or atronachs.

Steadfast Ward- Creates a medium shield that takes up to 100 pounds of damage.

Close Wounds- Heals caster 50 health per 15 minutes

Greater Ward- Creates a large shield that can take 200 pounds of damage.

Heal Other- Heals target for 50 health per 15 minutes.

Heal Undead- Heals undead target for 50 health per 15 minutes.

Poison Rune- Take away half of poison damage from caster or target.
---PROFILE---
Personality:
Myra is very shy and timid and doesn't say much. She never really has the courage to talk to people on her own unless she's talking about plants. Her love for plants was the only thing that got her to speak to other people, because up until that point she was only brave enough to speak to her parents and maybe one other person.
Despite being very shy, Myra is also very loving. She wants to help people and uses her alchemy and spells to do that. She only knows spells that can heal and she only wants to make potions that can cure. She simply wants to help.
Mental Weaknesses
-She is not very confident with herself.
-Easily manipulated.
-Threatening her family will work almost every time.
Interests:
-Alchemy
-Animals
-Reading
-Writing
-Watching People.
Habits/Quirks:
-Often looks at her feet
-Can barely maintain eye contact
-Twiddles Thumbs
Strengths:
-Very confident in her alchemy.
-Is basically an encyclopedia of plants in Skyrim.
-Despite her shyness, she is very loving.
---ITEMS---
Equipment:
-Two Iron Daggers
-Amulet of Kynareth
-5 potions of healing
-7 empty potion bottles
-A leather satchel filled with multiple plants, she adds and switches them up depending on the journey.
Armor:
-Hand-me-down College Of Winterhold robes
-Sometimes she has leather armor when she goes out.
Special Items:
-Blessed Amulet of Kynareth
---BACKGROUND---
Place of Origin:
Whiterun, Skyrim.
Current City/Village:
Whiterun
Family Members:
Taranath Duskpool- Father
Saelihn Duskpool- Mother
History:
Saelihn and Taranath both met as worshipers of of Kynareth in the ElderGleam Sanctuary. They both used their talents, alchemy and magic, to protect the ElderGleam and bring honor to the Goddess Kynareth. Over some time, the two got very close and ended up in a relationship, followed by marriage. Soon after that, they tried for a child and failed two times, due to Saelihn having trouble for keeping her child. She would only get a few months in the pregnancy before they died.
However, her third child was the miracle child. Unlike the other two, this baby made it to month 8 where she was born premature, very unhealthy. Taranath decided to take baby Myra to the ElderGleam where he received Kynareth's blessing on her, letting her grow up without any disability.
Imirya, against all odds, ended up surviving, despite being very sick most of her life. She didn't go out to play with other kids because of her ability to get sick therefore starting her shyness. Myra instead stayed in her mothers new shop and learned about alchemy and sometimes magic. Her father eventually left to become a full time mage at the College of Winterhold, only returning occasionally. This left the two women to make their own lives, using the shop as income.
To this day, Myra uses her love of alchemy and magic to heal people from time to time. However, her shyness is something that holds her back from the potential that she holds.
Admin




Posts

: 72


Join date

: 2015-07-02


Age

: 19


Location

: Probably sleeping






Posts

: 31


Join date

: 2015-11-12


Age

: 22


Location

: Riften



---
Permissions in this forum:
You
cannot
reply to topics in this forum